Store, Protect and Connect your Digital World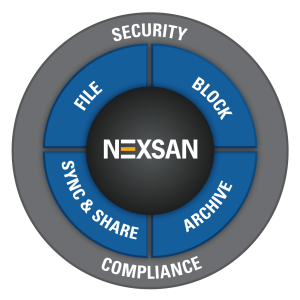 Reliable, cost-effective, efficient storage that is purpose-built for specific use cases and business needs.
Whether you require scalable and highly-flexible NAS, a global private-cloud sharing infrastructure, block storage for databases or Exchange, or secure archiving, you can trust Nexsan reliability and quality.
Complete line of file, block, archive, and file sync and share solutions, saving you time and money.
Multi-Site Sync – private cloud
Mobile apps for remote access.
High-Density Storage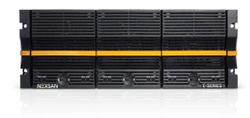 E-SERIES
High Density Storage
E-Series SAN storage solutions are ultra-dense and super-efficient, enabling you to shrink your storage footprint, save on power, and spend less time managing and more on improving your business.

BEAST
High Density Storage
Beast is a practical, cost-optimized storage workhorse engineered to deliver superior reliability, availability, and density with 480TB in a standard 4U rack, enabling you to stay ahead of high volume application such as backup, archive, and digital video surveillance.
NAS, Block, FASTier, Sync and Share

UNITY
Unified Storage – support for block and file and now collaboration between parties.
Unified storage solution with secure enterprise file sync and share. A single platform at a single price delivers superior business productivity and data mobility.
Archive

ASSUREON
Secure Archive Storage
Assureon is the most secure archive solution on the planet. It protects high-value data and meets any file integrity, security, privacy, and compliance
requirement while reducing storage costs.
Vertical Solutions
Healthcare
Managing and securing massive amounts of sensitive patient data presents a unique challenge to healthcare IT. Imation offers innovative solutions that secure, protect and recover crucial healthcare data.
Media & Entertainment
Successful Media & Entertainment production starts with reliable access to digital data throughout the workflow process. But it doesn't end there. To stay competitive, your company needs the high-density, flexible storage that Imation excels in: cost-effective, efficient, fast.
Digital Video Surveillance Storage (DVS)
Increased surveillance doesn't have to mean higher cost. Provide more peace of mind for less with Digital Video Surveillance solutions from Imation: performance, capacity and efficiency that can scale with your needs.
Educators and students need LAN-Speed access across remote locations to effectively collaborate on research projects. The information stored varies in size and importance, so it's critical to have a platform capable of offloading primary data, yet be able to be called up when and where needed for projects, and dissertations.
Government agencies Government agencies require the highest level of secure and accessible storage for their confidential data whether on the local, state, or federal level. These agencies have strict operating, budgetary and environmental requirements. Working with large video files from digital video surveillance systems and office worn body cameras are growing in importance, and that data must be safeguarded at all times to ensure evidentiary weight and admissibility in court.
Information is the life blood of finance. This critical information must be stored and shared in a manner that is highly secure guarded against internal and external threats in order to meet tough regulatory requirements. Nexsan ensures high availability and reduces operating risks across financial operations from the front office to the compliance archive.
Business Solutions
Archiving your data not only safeguards it from potential threat and loss, but also offloads data from primary storage to free up space for active data, greatly reducing the size, cost and complexity of backups. A best-in-class archive system must also comply with corporate and governmental regulatory requirements including HIPAA, SOX and SEC-17
Construction and Engineering is information intensive, from design through construction. A single project requires thousands of files: blueprints, models, maps and project plans. Nexsan stores and shares these large assets across project teams, from the architect's office to the building site, helping you to ensure the project goes according to plan
Large files are prolific in today's business world, and collaborating on these files is challenging at best. Nexsan Unity utilizes patented technology to provide secure, private, and compliant mobile access for users working remotely via their smartphones, tablets, desktops, or secure private web browser, without the need for a VPN. Unity eliminates the difficulties of remote access to large files with automated persistent replication of datasets to one or many other remote sites. This enables users to access data where they need it, when they need it, at LAN-access speeds, while leveraging the organization's secure infrastructure.
Nexsan storage arrays make backup and recovery fast, reliable and cost efficient by eliminating performance and management bottlenecks and reducing the overall amount of space, power and cooling otherwise required. Nexsan storage arrays offer the perfect balance of easy, efficient, enterprise-class storage purpose-built for the mid-market and are ideal as in integral part of the protection architecture.
Operational surveillance requirements mean a higher number of deployed cameras – ranging from tens to thousands – with higher digital resolutions that in-turn drive increased networking bandwidth, storage performance and the capacity to retain recordings for months. Nexsan E-Series has been a workhorse for digital video and media solutions and is a clear choice for digital video surveillance deployments.